Vasken Brudian
Vasken Brudian is an architect/designer/artist from Los Angeles, California. He is the principal of the Archi Design Group, an architecture and construction company, which he established in 2001. Having studied both art and architecture, Brudian employs the knowledge of both disciplines in his work. His artistic work has been exhibited in both solo and group exhibitions in museums and galleries across United States. In 2009, he established the Center for Experimental Art and Architecture in Los Angeles and acted as its director and gallery curator. The gallery exhibited the work of emerging and established artists, architects, filmmakers, and photographers who had chosen experimentation as their primary mode of expression, demonstrating innovation and contributing to the advancement of their respective disciplines. Since 2013 Vasken resides in Yerevan, Armenia. He currently teaches design at TUMO Center for Creative Technologies and is in the process of establishing MAXXI EVN (acronym for Modern Armenia XXI) Center for Art, Architecture and Design Advancement.
---
Lara Aharonian
Feminist activist, Woman human rights defender, Lara was born in Beirut in 1972 and immigrated to Montreal, Canada during the Lebanese civil war in 1990s where she studied Psycho-education and Comparative feminist Literature. She has been living in Armenia for the past 11 years. She founded the Women's Resource Center in Yerevan in 2003 with her feminist friends to empower women in the region and challenge the patriarchal norms in the Armenian society. In 2008, she created the first crisis center for survivors of sexual assault in Armenia to break the silence and shame around violence against women. Until today, with other activists, she advocates for the rights of women experiencing domestic violence and support them in finding justice. Since 2007, she also works with women living in the conflict region of Nagorno-Karabakh to include them in the peace processes. She is one of the directors of the documentary film "Finding Zabel Yesayan" on the life and work of the Armenian female writer and social activist of the early 20th century. She presently lives in Yerevan with her partner Raffi and their four children. You can read more about her experiences in Armenia on her personal blog "Motherhood, Repatriation and other fictions" at www.larajan.blogspot.com.
---
Serob Khachatryan
Serob Khachatryan was born and raised in Gyumri, Armenia. He is a graduate of Yerevan State University, Faculty of Philosophy and Psychology. After working as a translator, journalist, editor, education expert, project coordinator, and director, he has realized that he is most excited when he works with children in Armenian villages sponsored by Children of Armenia Fund (COAF). He now spends most of his work week in the villages, working with children and teachers. Serob is an author of several text book and books. He has two sons, who love playing chess.
---
Dan Meyer
Dan Meyer is a 35x world record holding sword swallower, finalist on America's Got Talent, and the world's leading expert in one of the world's most dangerous ancient arts as president of the Sword Swallowers Association International.Dan is also an award-winning author and winner of the 2007 Ig Nobel Prize in Medicine at Harvard for his medical research "Sword swallowing and its side effects" published in the British Medical Journal. Over the past two years, Dan has served as Director of Interlink Resources, an international humanitarian aid agency that supports orphans in Kazakhstan. Dan now lives in Tampa Florida with his wife, daughter, and macaw parrot, but he enjoys traveling around the world and is passionate about inspiring people with hope to do the impossible in their lives and change the world.
---
Alice Petrossian
Alice Petrossian is currently a Vice-Chair on the Los Angeles County Commission for Women and in July 2013 California Chief Justice Canti-Sakuaye appointed Alice to the "California Task Force on K-12 Civic Learning." She hold Masters Degree in Education Administration and completed her course work towards a PhD in Educational Policy at the University of Southern California. Alice retired from the Pasadena Unified School District (PUSD) as Chief Academic Officer-Deputy Superintendent. Prior to joining PUSD, she served in multiple administrative positions in Glendale Unified School District, including 10 years as the Assistant Superintendent-Educational Services. Throughout her 44 year career, Alice has been an educational leader and advocate for all students. She is most passionate when working for and with disenfranchised, minority and limited English speaking students. Alice was appointed to several state boards and commissions by Governors Jerry Brown, George Deukmejian, Pete Wilson and Gray Davis.  Just to name a few, Alice served as Chair of the California Commission for Teacher Credentialing, President of the California Community Colleges Board of Governors, and Trustee of the California State University System. Alice has been happily married for 45 years, has two sons, daughter-in-law and three grandchildren.
---
Pegor Papazian
Pegor Papazian is the founder and CEO of Bazillion Beings, a startup developing autonomous software agents based on technology he developed at the MIT AI Lab. He is a board member of the Tumo Center for Creative Technologies where he helped create the center's innovative education program. He has led technology development projects for a number of multinational corporations and has lived and worked in cities across the Northern Hemisphere, including Bangkok, Barcelona, Beirut and Palo Alto. Pegor is now settled in Yerevan where he is creating independent online life forms.
---
Artak Beglaryan
Artak is a young political scientist based in Artsakh (Nagorno-Karabakh). Currently, he is serving as press secretary of the NKR prime minister. He is PhD candidate at the Institute for National Strategic Studies of Armenia's defense ministry. Doing his BA in political science and a partial MA in conflict studies at Yerevan State University, as well as, studying abroad three times, Artak is back to his hometown Stepanakert to invest his knowledge in the development of Artsakh. He holds a MA in political science from University College London. Through Tavitian scholarship program Artak studied at public policy and administration at Fletcher School of Law and Diplomacy of Tufts University, the USA. Besides, he had a chance to study business management in Greece through Erasmus Mundus exchange program. All the studies and new environments have formed his worldview, making him see education as an instrument of serving other people and his country. Being blind since 6-year-old, Artak has sought to compensate his physical obstacle with other advantages in education, career and civic activism. Self-education through self-overcoming activities is his passion. In 2013 he climbed the top of biblical mount Ararat (5,165 meter), proving that obstacles don't matter on the way of reaching your goals.
http://www.youtube.com/watch?v=m0jTQxkFsU4
---
Anahit Bakhshyan
Anahit Bakhshyan is the Deputy Director of the State Institute of Education of the Armenian Ministry of Education and Science. Previously Bakhshyan served as an MP in the National Parliament and worked in a number of Armenian schools as a teacher of physics, deputy director and later on as director of the 27 school, one of the first ones in Armenia to become inclusive. Anahit has three children and is very outspoken about child rights, education reforms and policy.
---
Bradley Busetto
Bradley Busetto was appointed United Nations Resident Coordinator and UNDP Resident Representative for the Republic of Armenia in February 2013. Previously he worked with the UN World Food Programme, where served as Deputy Director in Indonesia, managing the response to several major emergencies, including the tsunami disaster of 2004-2005. Bradley also recently led an innovative initiative to develop a new global model to stop chronic malnutrition in children. In his UN career he has served on the front-line of humanitarian crises in Iraq, Bosnia-Herzegovina and Kosovo. He also worked at the Wellcome Trust, the leading health foundation, where he grew its global presence, especially in Asia and Africa. The California native also worked in leading positions in the private sector, including banking and management consulting. Throughout his working life Bradley has focused on private-public partnerships, social innovation, and applying the principles of entrepreneurship to the development sector and the United Nations. Bradley holds a B.A. (Honors) and M.A. from Stanford University.
---
Arik Grigoryan
Arik Grigoryan, a flutist, multi-instrumentalist, and member of the world-famous band The Bambir, has been working at Tumo for well over a year now. He founded and leads Tumo's music project, Tmba-Ta. As a musician, composer, and instructor- Arik often entrenches his work with the history of Armenia's folk-music as well as eastern and western philosophies. As a member of Tumo's Music Team, Arik brings with him his over 20 years of experience as a gigging musician, as well as a classically trained composer and instructor.
---
Mimi Zarukian – Host
Mimi Zarukian has been in the field of education for more than 30 years. As an At Risk Adviser, classroom teacher, curriculum specials and teacher on special assignments, she has faithfully served the Burbank Unified School District for the past 27th years. She holds a BA and MA from Californian State University, Northridge A Clear Life Teaching Credential from the state of California, and a bilingual Certificate of Competency from the University of Laverne. Mimi is most proud of her lifelong commitment of volunteer work serving numerous organizations in various capacities in the US and Armenia. After retiring in 2013, Mimi spends most of her time in Armenia continuing her connection to education by teaching at AUA.
---
TMBA-TA – Performance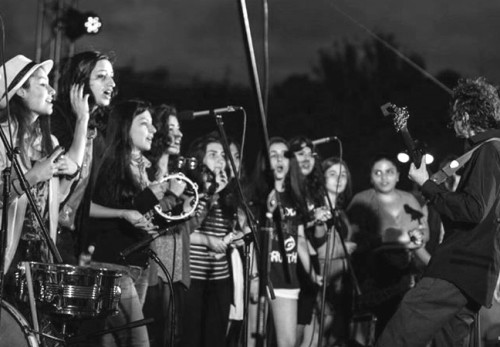 Tmba-Ta, which was formed a year ago under the leadership of Bambir musician Arik Grigoryan, has its own unique musical and performing style. The 30-member group performs familiar folk and contemporary works, giving them a new life and delivery. Over the course of the past year Tmba-Ta has performed several concerts at Tumo, the Tumo Center in Dilijan, as well as the Stop Club- a live music staple in Yerevan. Tmba-Ta has recorded several single in the new Tumo Studio, and will be releasing those compositions over the next several months.