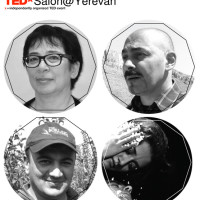 TEDxYerevan team is excited to announce that we're organizing our first salon event in Armenia. The theme of the first TEDxSalon@Yerevan event is "Time and Space" which will take place on March 7th, 2015. The decision to start salon events was driven by tremendous demand from Armenian intellectual community to have a dialogue on different topics in TEDx format and inspire thinkers to take actions toward different urgent issues like climate change, entrepreneurship, innovation, new technologies, etc.
The first TEDxSalon@Yerevan event is organized in partnership with UNDP in Armenia and will focus on environmental issues with an aim to spark a discussion in our local community of thinkers and doers. UNDP in Armenia has spent twenty years assisting Armenia in in reducing the negative impacts of climate change. The Armenian authorities, in response, support the UNDP initiatives to promote energy efficiency and energy saving. At TEDxSalon@Yerevan event, attendees will hear a few speakers, will watch TED talks and have informal discussions.
Dr. Diana Harutyunyan, a world class climate change expert with 15 years of experience in the issues, is going to disclose real climate change threats for Armenia and its economy in her TEDx talk. She is a member of Executive Board to Kyoto Protocol's Clean Development Mechanism and a nominated expert to the UN framework Convention on Climate Change. Dr. Diana Harutyunyan as an expert has supported the Armenian delegation in negotiations during several Conferences of Parties to the Convention. Diana is author of scientific articles and editor of more than dozen publications on climate change.
Another speaker is Dr. Karen Aghababyan, Chief Scientist, Head of Environmental Lab and Assistant Professor at Acopian Center for Environment at AUA. He will talk disclose how storks help scientists and Armenian communities to monitor the natural resources. Dr. Karen Aghababyan holds a PhD in Biology from the Institute of Zoology, Armenian National Academy of Sciences. Karen is a recipient of various scholarships, awards and grants including Whitley Award donated by Whitley Fund for Nature, DAAD post-doctoral scholarship, ANSEF grant, Whitley Continuation Funding Grant, and WFN/WWF Challenge Grant.Recently Dr. Karen Aghababyan, has been appointed as Armenia's National Coordinator for the second European Breeding Bird Atlas (EBBA2).
Dr. Vardan Urutyan the Director of the ICARE Foundation and Associate Professor of the Texas A&M University will talk and spread light on rising number of food waste in Armenia.  Dr. Urutyan holds PhD degree from the ASEU and completed a post-doctoral program in Agribusiness Finance and Risk Management at the University of Guelph, Canada. Dr.  Urutyan is one of the founders  of  ICARE, which is a leading institution committed to develop sustainable capacity in the Armenian food and agribusiness sector through implementation of state-of-the-art educational, career development and research programs. He is an author of the book "Agricultural Cooperatives" and over 30 research articles published in many different countries.
At the end of TEDxSalon Event guest will have the pleasure to watch the newest performance of MIHR Theatre. MIHR Theatre was established in 2003 by sister and brother MLKE-Galstyans in Armenia. Throughout its existence the MIHR theatre has worked in many different genres of the movement such as contemporary dance, emotional dance, action—painting, drama dance and open-air performances. The MIHR Theater has organized many performances, movies, open-air events, parades and other events in different cities and has participated in many international festivals in Georgia, Belarus, Russia, Perm, Sweden, Belgium, Czech Republic, Latvia, Lithuania, Iran, Egypt, USA.
The goal of Salon events is to keep intellectual and thought-provoking conversations going with thought leaders and entrepreneurs throughout the year. Unlike bigger TEDxYerevan events, the salon event is a small event. It is an invite-only event but thanks to UNDP support TEDx fans will have another chance to apply and get invitations for an event. Stay tuned for more information on how to apply to attend the event soon!