We are now accepting speaker nominations for TEDxYerevan 2013. We are seeking inspiring speakers and performers for our upcoming TEDxYerevan event.
Our goal: Ultimately, we're looking for folks who have made an impact in the world. And we're looking for presenters to inspire our audience to continue pursuing their own vision for impacting the world around them.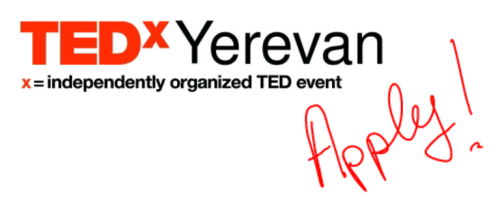 Please use this form to suggest a speaker or to nominate yourself. If you do not know the individual personally but feel they have something to say and should be heard, share what you do know and why you think they should be a TEDxYerevan speaker. We do not have a deadline for nominations, but note that speakers are typically finalized at least 40 days prior to each upcoming event.
TEDx speakers should understand these set TED rules: All talks are 18 minutes or less, with most being in the 9-minute range. We have seen 3-minute talks be insanely powerful. The max time each speaker is allotted will be dictated by the total time of the event divided by the total number of speakers and other components of the program.
Click to read detailed information on our speaker nomination/selection process.