Hagop Emrazian, who spoke about promoting learning within 10 minutes at TEDxYerevan in 2010, answers questions from TEDxYerevan team.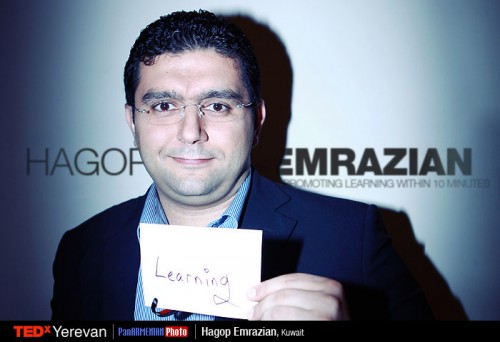 How did speaking at TEDxYerevan 2010 change your life?
Definitely the experience changed how I looked at sharing knowledge and information. The experience itself because in my previous job I used to facilitate workshops, training and one-on-one coaching and I did few, maybe two or three talks in front of the big crowd but when your audience is in Armenia you kind of don't know how the message will be perceived across and you have to understand the vibes in the room and the culture itself, and even though you would assume it's easy to do within few hours, it is not so. In terms of opportunities, on the same day I got an invitation to speak in front of a group of students in one of the universities, which I did. I gave a speech on how to brand themselves after the university, how to look for jobs and to sit at interviews. I am ready to run workshops for colleges and universities pro-bono once I have the opportunity when I am in Yerevan because I believe everyone should have a fair chance at exploring opportunities. Yes, it definitely made me think "hold on, I think I am enjoying to give speeches more than before." And it was an interesting experience, also to know the other speakers and to work with them. I am connected with almost all of them on Facebook, and the minute you finish your talk in 2-3 hours you get friend requests and you're like what's happening and you realize "that's TEDxYerevan effect", a ripple effect, which has started. On Facebook almost 70 percent of my connections are from Armenia, which is a great thing.
What is your biggest inspiration?
One word that inspired me always is PERSEVERANCE. I even have it engraved on my ring. If you think about it, you can be anyone and you can be in any place, but if you don't persevere.. and I am not talking about being successful because successful can be temporary. What if you had a good business and in 3 or 4 years time everything went wrong and you are back to square one? What do you do then? Perseverance gets you back to the place to think "You know what? I am going to do this, whatever it takes." So, my philosophy is if you want to be happy,first of all, you have to live a fulfilled life rather than a fulled one. For me I realized this after I had my accident and gave me a different perspective towards everything. And I am kind of wondering why do we people wait for something dramatic to happen so we could start thinking differently. Why do we always want to do everything and get everything at the same time. Yesterday I delivered a speech to a group of young leaders here in Yerevan, and one of my question was "What was the last time you wanted to learn a new language?" Everyone raised their hands, they had a language in mind, it could be French, German, Italian, English. And you say "What have you done about it?" and they haven't done anything. I think for everybody to live a life of fulfillment, they have to understand it's a journey and within this journey you have to pace yourself. You can have everything maybe in a month but what to do you with the rest of your life?
Will you recommend a book, something you have read recently and loved it and you want to share it with our readers?
There is this book called "Business Model You", they have a web page too, you can check it out at http://businessmodelyou.com. They basically look as the individual as a business model. This is definitely a book that everybody, who is trying to brand and find themselves in a more organized way, would find interesting. The business model is one page and everybody can download it from the website. You just fill in the blanks and while you do so, you realize a great deal about yourself and answers to what you're looking for, and you can come to this sheet after a month – which is what I do- and review it again. This is something I would definitely recommend, of course there are many great books, but this is what come to mind during this conversation and in this context.